I picked a winner!
I had to do a little detective work though. There was no email address listed in any of her comments...
but after some snooping, I realized it was who I thought it was!
Leslie Casper!
I've "known" Leslie for quite a few years through a message board that we both frequented. I've seen her go through several ups and downs in her family's journey to adopt. A few years ago, through the incredible selflessness of a birthmom, they were blessed with their beautiful daughter Emmy. She's one of the most gorgeous little girls I've ever seen, and she's smart and funny to top it all off!
Here is their adoption blog if you'd like to read more about them, pass it on to anyone you think might be interested. They are wonderful people and any child would be lucky to call them Mom and Dad!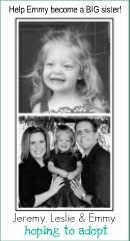 Happy Mother's Day!
Check back tomorrow for a great giveaway from Natalie at
Natty Sue Designs
!
Also, remember,
Just Be
is offering 20 % off on all custom orders for the next 2 weeks! Just mention See it! Love it! Win it! when you place your order!