It's obvious from the weekly giveaways here that I like contests right? This week I wanted to talk a bit about a contest that is starting today. It's related to Blogmania (which you can read more about by scrolling to the top of my blog and clicking on the link there) and my cute niece is entered!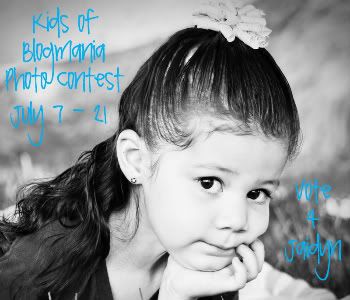 Alright, I'll just admit this upfront, it's a shameless plug. :) You can click on her picture above to vote for her. I might just be willing to let you have an extra entry into
this week's giveaway
. So, go on, vote for her, you know you want to...and don't forget to add your extra entry for doing so, you can just click the "other" box on the entry form and state that you "Voted for Jaidyn!" Thanks!
Also, because Blogger lost some of my Bronzed Envy entries that have been posted thus far, be sure to go re-enter the giveaway using the new form. Sorry again for the inconvenience!